I wrote a review of 'Bert's Hometown Grill and Pizzeria' in Madisonville, TN in early February of 2016.  My husband and I had visited the restaurant on a Saturday afternoon which was a mistake.  The restaurant is not very big and it was jam packed and there were more kids than adults it seemed.  I was not impressed with the atmosphere or the food.  I also stated I would only give them another try if it was a weekday when kids were in school.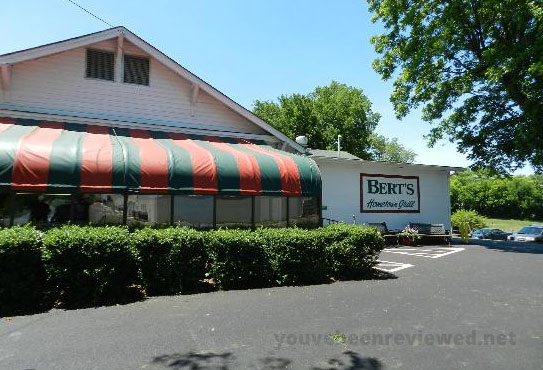 A few weeks ago we found ourselves in Madisonville.  We had no plans to eat at Bert's.  We had visited a local nursery for plants and when we realized it was time to eat we were close to Bert's….the parking lot was fairly empty so we gave it a second chance. It was like night and day – we were seated instantly.  Our server was friendly, helpful and seemed to anticipate our needs.  There was one booth, far enough away, where there were 3 kids, loud kids, but they were finishing as we were seated so it wasn't bad.
During our last visit I had overcooked steak, I decided to try their chicken this time.  I ordered teriyaki chicken, baked potato and the salad bar (which is extra).  The chicken was perfect, the baked potato was hot and the salad bar wasn't overly done, but it held enough items to satisfy me.
My husband had their beef tips with peppers and onions, baked potato and salad bar.  He said the beef tips were tender and his potato was the same as mine.  They give you two slices of garlic bread, which is really white bread toasted.  We don't like garlic very much so our server brought us two slices of non-garlic white bread toasted.
One of their drink choices is lemonade and that's what I ordered.  Not many restaurants serve it.  There were customers in and out and it seemed that many them were locals.  Not only that, the majority were senior citizens!
They are in the process of enlarging their dining area.  From the looks of the construction they are not really adding all that much square footage to the building, but looks are deceiving!  It will be interesting to see how this remodel turns out.
Now if anyone asks me about Bert's in Madisonville, TN I say  – go for it!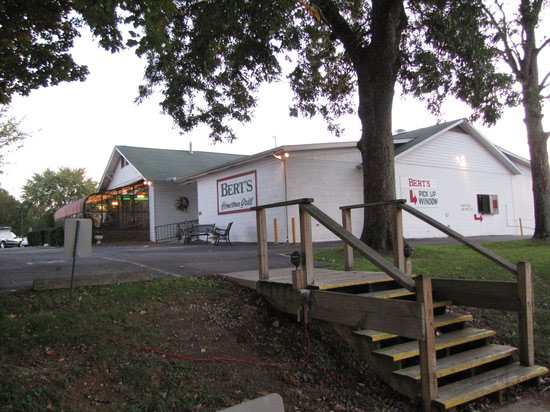 I am sorry I don't have any photos of this visit's food to share with you.  The photos in this post were taken at my previous visit. I was not planning on taking photos so I did not have my camera with me and, believe it or not, I don't use a cell phone!