The 45th Parallel sign in Yellowstone National Park may be the most visited and photographed of all 45th Parallel markers. It is a milestone for travellers heading north or south on Highway 89, the scenic route connecting seven famous western National Parks. Heather Holbus shares this photo of the rustic wooden marker, which is located at a roadside turnout along the Gardiner River just north of Mammoth Hot Springs.
Between the equator and north pole lies the 45th parallel. Yellowstone National Park is where I took the photo of this sign in 2009. It's near a small nondescript parking lot that is frankly, easy to miss. Without GPS, we were very fortunate to have stumbled across it.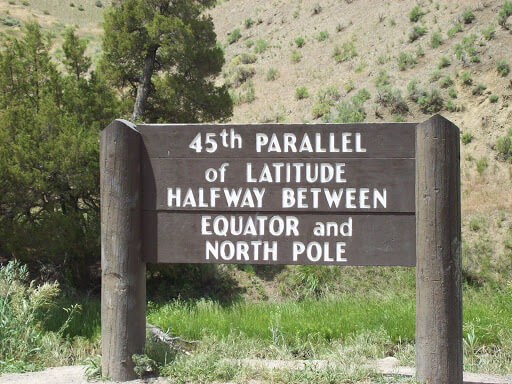 For years, the sign was situated in Yellowstone National Park between Gardiner and Mammoth Springs. Prior to 2008 the sign placement was inaccurate. In 2008, it was moved to the current location where I snapped the photo.
The geology of Yellowstone did not allow for the 45th parallel sign to be placed on the exact dot where the 45th parallel intersects on the roadway. However, the National Park Service assures me that it is within 1,200 feet of that spot.
The northern border of Yellowstone National Park was set at neither the parallel or the Wyoming state line, but extends slightly into Montana. Two miles north of the 45th Parallel sign is the dramatic stone Roosevelt Gate which was built at the park border in 1903 to welcome visitors arriving by railroad at Gardiner, Montana.
A little looking around is probably all it took to see the exact spot. Even if we didn't it's okay. Being somewhere along the parallel is pretty cool. I don't know about you, but to be within 1,200 feet of where the 45th parallel intersects with the roadway close enough for me to be happy.