It's that time of year when the Mennonite Farm Market is open for business.  We shopped at the one on Needle Eye Lane in Delano for years.  Now we are a little closer to the one in Englewood.  Both locations are open from 9:00 am to 5:00 pm Monday through Saturday.  Both locations basically sell the same items.  This review will center on the Englewood location.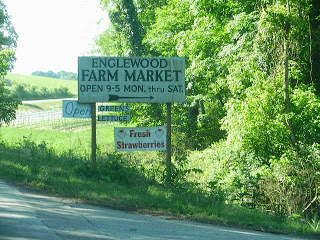 Once I found out the days/times they were open I told my husband we needed a 'road trip'.  We both looked forward to their strawberries and whatever else was in season.  We knew where the farm market was located so we had no problem finding it.
As we entered the small but extremely clean and neat building we were pleasantly surprised to see they have a few grocery carts available. We needed one for sure!  There is also a greenhouse where you can buy plants, but we didn't check it out.
First I picked up two quarts of red, ripe strawberries, my mouth was watering I wanted to eat one right away!  From there I spotted fresh peas and since our garden peas aren't quite ready I got a few handfuls to tide me over.  I like to use raw peas in my salad.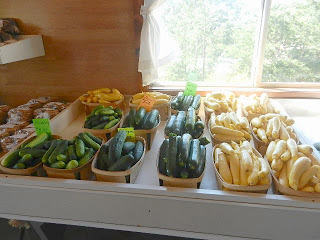 From there I couldn't pass up the 'goodie section'.  They had their breads, bread sticks, cinnamon buns, peanut butter cookies, and my favorite oatmeal raisin cookies, which of course I purchased!  (The oatmeal raisin cookies were exceptional, I highly recommend them.)
Then I took another trip back around the building to see what I missed and spotted broccoli and the tomatoes.  I got two German Queen tomatoes and I really look forward to them on sandwiches or in salads.
There were dozens of other items, but we really didn't need potatoes, onion, Swiss Chard, turnips, beets, all kinds of yellow squash or zucchini.  There are too many items to remember them all!
If you have never been to a Mennonite Farm Market in Englewood you need to remember that they don't have electricity – so no air conditioning, no lights and no fancy cash register.  They only accept cash so be sure to take enough with you!  They request that people dress appropriately meaning no halter tops or short shorts.  Respect their rules and be careful on the roads as you will most likely pass a horse and buggy or two near their farms.
I cleaned the two quarts of strawberries and there was not one bad on in the bunch.  I sliced up a few that we had over ice cream and the rest we froze and will enjoy later in the year.
If you are interested in checking out either location you can use this information for your GPS or you can use MapQuest or Bing Maps
Delano Location:
Needle Eye Lane, Delano.
Approximately one mile west of Highway 411 in Delano.
There is a sign on 411, look for it!
Englewood Location:
Off of Country Road 422
Approximately 4 miles west of 411 on County Road 422.
There is a big sign at their entrance on 422.